[Electronic] Village Child Voucher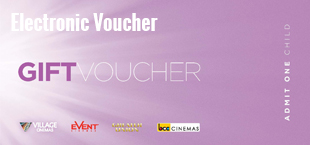 Ticket Information
SDA is pleased to be able to offer to members, Village movie vouchers at a discount of 20-40% on regular box office prices.
This ticket is delivered instantly as a PDF via email.
Please check your email address before completing your purchase. An incorrect email address will delay delivery.
Please note, as e-tickets are allocated instantly, e-tickets are NOT refundable
---
This voucher is valid for one child (14 years of age or under) movie session admission. Voucher can be redeemed online at villagecinemas.com.au, eventcinemas.com.au or at the ticket box for movie sessions at participating cinema locations*. Vouchers may take up to 24 hours after purchase to be redeemable. Seating is subject to availability. Please redeem this voucher for a seat to your selected movie session. Not valid for Gold Class, group bookings, special events, movie marathons or in conjunction with any other offer or promotion unless otherwise stated. A surcharge applies for 3D, Vmax, Vpremium and Dolby Atmos sessions. Booking fees may apply. It is the responsibility of the holder to redeem vouchers for a movie session scheduled on or before they expire. Vouchers are not refundable, not transferrable and cannot be sold or exchanged for cash or other gift products. Lost and expired vouchers will not be extended, replaced or exchanged for cash.
Please Note: When purchasing Adult or Child E-Tickets (restricted or unrestricted), Village requires a minimum of 4 Adult and/or Child E-Tickets (restricted or unrestricted) to be purchased in one transaction. Adult & Child E-Tickets (restricted or unrestricted) can be combined in one purchase to total 4. This minimum does not apply to regular paper tickets.
*Refer to villagecinemas.com.au or eventcinemas.com.au